< < NOTE: This offer has now EXPIRED – I'll write about next years The Paradise Pack offer when it goes on Sale again in 2016 > >
20 Travel products to help your blog – The Paradise Pack.
Have ambitious hopes & dreams for your Blog?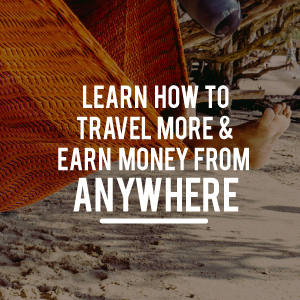 If you're anything like me, you will have so-so many dreams for it.
Idea's rattling around in notebooks, evernote and on backs of receipts.
With so many directions your blog could move into, The Paradise Pack (*Affiliate) might help you figure it all out…like I know it is going to greatly help me.
Do you soak up information about all angles of blogging and the 'possibilities' of what could be?  I know I do, I can't get enough
I'm starting to put plans in place (slowly-slowly) to Travel a WHOLE lot more in a few years time for extended periods (once Miss15 is at Uni) and hoping to earn a living while I do it through a few different avenues.
One area I see possibly expanding on my blog in future is Travel Blogging…and further developing my products I'm working away in the background and digital material.
I write a little about Travel and adventures on Wellington Chic now (not enough though yet and I have approx 47 half and three-quarter written posts in my drafts folder dedicated to travel that I'm not quite ready to post!).
So I'm like sponge bob and soak up good blog related stuff from the great Blog groups I'm part of like #brunchclub, books, articles, Facebook, Social Media and fab people who write on the topics I like.
I still have so much to learn…
Well blow me down…then this comes along & rocks my SOCKS!
But I only spotted it TODAY & times nearly run out.
What?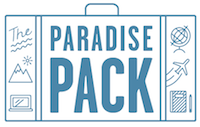 • The Paradise Pack:
A world-class bundle of 20 Hand-selected resources
• That have been proven to help you travel more, spend less, earn money from anywhere in the world (even if that's just from home) and create your dream lifestyle (yeah cliché!)
• Offered only ONCE a year.
• Offered on sale for only 7 days.
• Offered at a massively discounted price! – Yay
• Once the deadline hits – it's gone.
• Next years pack will be completely different.
• 20 travel products by 20 travel experts worth over $2000 for just  $197 * !!!
How long do you have left to purchase before offer expires?:
-862
Days
-21
Hours
-6
Minutes
-50
Seconds

The Paradise Pack is only available until June 7th 11:59pm (PST) and then it'll be gone forever.
(That's Monday June 8th – 6.55pm NEW ZEALAND Time)
Be quick & check out the epic line up below of A-Mazing writers + every single piece of information you get in this pack.
– You will find Bloggers you have read and loved.
– Experts from all different topics and angles.
– Intel on the real nitty gritty of what it takes to succeed in these area's.
– Facts, figures and endless tips to help you bypass the hurdles.
I LOVE what is in this years pack.
World Class resources beyond what I could have imagined.
Do you read
Nomadic Matts'

Blog?

Matt has helped 16 million people travel, and his Travel Hack guide I've been eyeing up is just one of 20 top-notch resources that you'll get in The Paradise Pack*.

Interested to try your hand at Videography for Travel, Affiliate Marketing (making money from your blog), Crowd Funding, House Sitting, Selling products online, Making money from Airbnb and so-so much more (full list below)?

---
A List of Current Products In The Paradise Pack – 2015
• Matt Kepnes from Nomadic Matt – Ultimate Guide To Travel Hacking
(value $30)
• Benny Lewis from Fluent in 3 Months – Conversation Countdown (value $47), Why Spanish is Easy & Why French is Easy & Why German is Easy Triple Package
(value $117)
• Sean Ogle from Location180 – Affiliate Marketing Blueprint
(value $97)
• Christine Gilbert from Almost Fearless – Blog Brilliantly
(value $249)
• Captain and Clark  – Videography for Travel Bloggers
(value $297)
• Natalie Sisson from The Suitcase Entrepreneur – How to Successfully Crowd Fund Your Dream Idea on Kickstarter Guide Premium Bundle
($77 value)
• Nat and Jodie from House Sitting World – House Sitting Academy
(value $97)
• Caz and Craig from Y Travel – How To Create a Travel Life You Love Without Spending a Fortune
(value $47)
• Brian Moran from 5 minute Marketing – The Freedom Formula Video Series
(value $97)
• Tom Ewer from Leaving Work Behind – Paid To Blog as a Freelancer
(value $49)
• Jason Moore from Zero To Travel – How To Quit Your Job & Travel the World (Location Independent Audio Bundle)
(value $147)
• Tim Leffel – A Better Life For Half The Price – Committed Package
(value $89)
• Jesse Krieger from Lifestyle Entrepreneur – Become a Lifestyle Entrepreneur Book + Audio Training
(value $247)
• Jasper Ribbers from The Traveling Dutchman – Get Paid For Your Pad Video Course + Book
(value $107)
• Sean Keener from BootsnAll Travel Network and AirTreks – Family Travel Guide to Long-Term Travel
(value $49)
• Sherry Ott from Meet, Plan, Go! – Take a Career Break and Give Yourself a Raise
(value $49)
• Adam Seper from the BootsnAll Travel Network and Round the World Ticket – Around the World Airfare Report
• Michelle from Up Sticks and Go – Digital "How To" Products to Sell Online
(value $147)
• Emily Utter – The Adventurous Entrepreneur Training Series
(value $97)
20 travel products by 20 travel experts worth over $2000 for just  $197 !!!
---
I already follow many of these peeps on Twitter, Facebook and their own Blogs and I gain so much from their experiences and resources.
10% from each sale will go to Pencils of Promise (PoP) – an organization that builds schools for kids in developing countries. Check out their organisation, it's a great initiative.
All Paradise Pack products come to you electronically via email for you to keep and read/view/listen as often as you like.
Once you purchase your pack, you receive it instantly.
20 travel products by 20 travel experts worth over $2000 for just $197
If you are looking to grow your blog in some of these area's, you'd be crazy to miss The Paradise Pack bundle sale! (insert affiliate link)
You would have to wait a whole year til it comes up again and the pack contents is always different, so these resources may not feature again
Many of these individual items I have been really interested to buy in the past on their own…but my budget yet wouldn't stretch that far.
But now you and I can get them and so-so much more for just $197!
Buy it here through The Paradise Pack * website using their super easy checkout.
This is an affiliate link.  If you click on it (& purchase this awesome pack) I will receive a commission (no extra cost to you, you're just outright saving money here honey).  Which will help me buy more resources in future!
But truly, have a look, check it out yourself (even if you don't click through my link :-)), as this stuff is pretty damn awesome.
The Paradise Pack is only available until June 7th 11:59pm (PST) and then it'll be gone forever.
(That's Monday June 8th – 6.55pm NEW ZEALAND Time)
Enjoy your pack and keep me updated with what it inspires you to do with your blog!
#paradisepack #theparadisepack